Uludag is one of the most popular places of winter tourism. It has been an indispensable part of weekend plans for years, thanks to its easy access from Bursa and Istanbul – even from Balikesir. It attracts athletes of all levels, not only for skiing and snowboarding, but also for trekking routes.
How to go to Uludag?
Uludag is about 40 minutes away from the center of Bursa and can be easily reached by guiding signs in the city. You have to pay the national park entrance fee when crossing by private vehicle; 24 TL. Transportation can be provided by minibus, cable car and taxi other than private vehicles.
Transportation by Cable Car
The cable car departs from the Teferrüç district in the Yıldırım district of Bursa, and reaches the hotels area after the intermediate stations. When a new line was added to the second hotels area from Sarıalan, which was renewed in the past years, the cable car became the easiest means of transportation to the hotels area. Now you can reach the second hotel area, where Ağaoğlu My Mountain and Karinna Hotel are located, by taking the cable car from the Teferrüç district.
You can buy the cable car tickets online or you can get them from the box office when you go. You can come to the station with your own car, leave your car in the paid parking lot and continue with the cable car.
There is something you need to pay attention to about the cable car; Due to morning weather conditions, the line may stop in the evening. Or it may not be working until the hotels area, but until the Sarıalan stop. In this case, transfer to the hotels area is provided by minibuses in Sarıalan for -10 TL. These last minute surprises require frequent confirmation due to the season.
Cable car prices and working hours change periodically, a final check would be good.
Throughout the winter;
Full Round-Trip: 75 TL
Student Round-Trip: 45 TL
Price tariff is applied for those born in 2014 and before.
Working hours; Weekdays: 08:00-20:00
Weekend: 08:00-20:00
Bicycle ticket prices: In addition to the passenger price between 12-17 hours (peak hours), 60 TL one way is charged, and 35 TL one way in addition to the passenger price at other times.
Unless extraordinary weather conditions occur, the cable car operates continuously between 08:00 in the morning and 20:00 in the evening. There are hangers for hanging skis and snowboards on the outside of the cabins. You can visit their website for detailed information.
Transportation by Minibus
Transportation from Istanbul is a bit difficult, except for daily tours and private vehicles. Although it is easy to reach by minibus from Bursa, it will not be very suitable for a daily plan as transportation between Istanbul and Bursa will create a waste of time.
The minibus line running between Tophane and Uludağ provides service every day between 07:30 and 20:00.
Transportation by Taxi
Taxis in Uludağ generally serve hotel customers. However, when an emergency occurs, it is useful to keep in mind as an option. They serve as 210 TL one way.
Ski and Snowboard Rental
You don't have to delay starting any of these sports just because you don't have the equipment. There are many people who have been interested in these sports for a very long time, but have not completed the lack of materials. In fact, there are those who find it right to invest in materials for these sports, which can be done for a very short period of time. One of the best methods for this is the mountain rental method; In addition to renting skis and snowboards, you have the opportunity to rent all kinds of equipment from helmets to gloves.
The prices for the 2021-2022 season can be said to be 250 TL on average for all equipment rental and 180 TL for shoes and snowboards only – of course, rental offices will have their own pricing.
Skipass Types and Prices
A single skipass you will receive is valid for all lifts on the mountain. Skipass can be purchased on https://www.uludaginfo.com/en or at toll booths on the mountain. However, you must collect the ticket you bought online from the box office or print it from the kiosks. It is not possible to use the online ticket at the turnstiles without printing it.
It is also possible to use an hourly ski pass. Hourly skipasses are activated from the moment you first read the turnstile. If you are one of those who do not want to be stuck in the return traffic in the evening, this method will work for you. You can take a 3-hour ascent and enjoy the mountain before the excursionists arrive in the morning and set off early in the afternoon.
For those who will arrive on different days, flexible ticket type and the use of point tickets with no time restrictions in the turnstile pass are also among the options.
Night Ski
There is also night skiing in Uludağ this year. You can also learn the information of the tracks that will be open day, hour and night from Uludağ Info. It usually starts at 18:00, although the days vary. The announced runways do not close at 17.30 and the lifts continue to operate. It ends at around 21.00 – 22.00 depending on the weather.
You need to buy a ticket for night skiing, the season price is 95 TL, if you have a season ticket, it is 65 TL.
Where to Stay in Uludag?
There are many nice otels to stay in Uludağ. Here you can choose the most suitable for your budget.
Uludağ Forest Mansions, which have been mentioned a lot recently, are also among the options. To reach here by cable car, you need to get off at the Sarıalan stop and take a short walk among the snow-covered trees.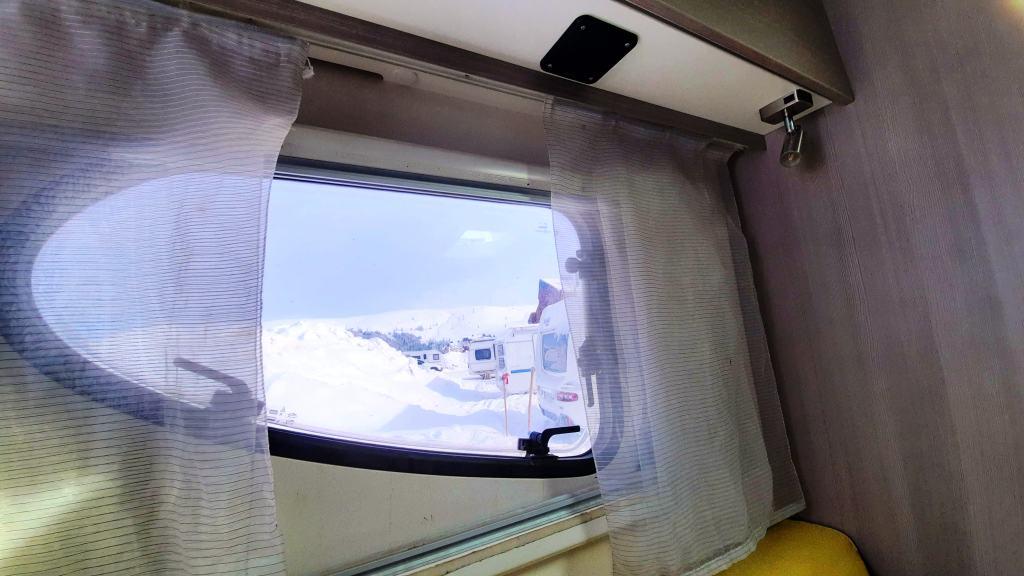 In addition, there is now a trailer park in Uludağ. You can stay in Uludag for an affordable price in the caravan park established by Bursa Metropolitan Municipality in Uludag 2nd Hotels Region. The caravan park is also very close to the cable car station in the hotels area and Migros, the only market in the area. It is also within walking distance of Tutyeli, Kuşaklıkaya and Maden tracks in the 2nd region.
Nightly accommodation in Uludag caravan park is 170 TL including electricity. If you want to park your caravan without accommodation, it is 50 TL per day. At these prices, you can stay for weeks in the caravan park for the nightly price of the hotels.
What to Eat in Uludag?
Since we more or less guessed the options from our previous experiences, we went prepared. Before we left, we bought falafel and raw meatball wraps, which you can find at Shell gas stations on the way. We ate them with hot tea and coffee on the mountain.
It's good to know;
Alcohol is prohibited on the tracks
As of the 2021-2022 season, you cannot go to the tracks without a helmet. We are pleased with Wedze's helmets, those who want to examine can have a look here.
It's a really good practice if it's checked. Have fun.