We have compiled our camping equipment, which we have loved for years, and recommendations for new buyers. We have also created a list of things to take while going camping for those in need.
Tent
There is no one of us who does not have a mountaineering-climbing club background at university. In such clubs, you have the opportunity to try different tents of different companies. The most used in our club were Husky's expedition type and North Face's three-season tents. Since Decathlon entered Turkey, access to quality outdoor products has become easier and the Quechua brand has entered our lives. We bought our tent from Decathlon, albeit hastily. Our tent is Quechua's 2-person QuickHiker tent. I think the tent is no longer for sale, but it was one of the most successful tents I've used.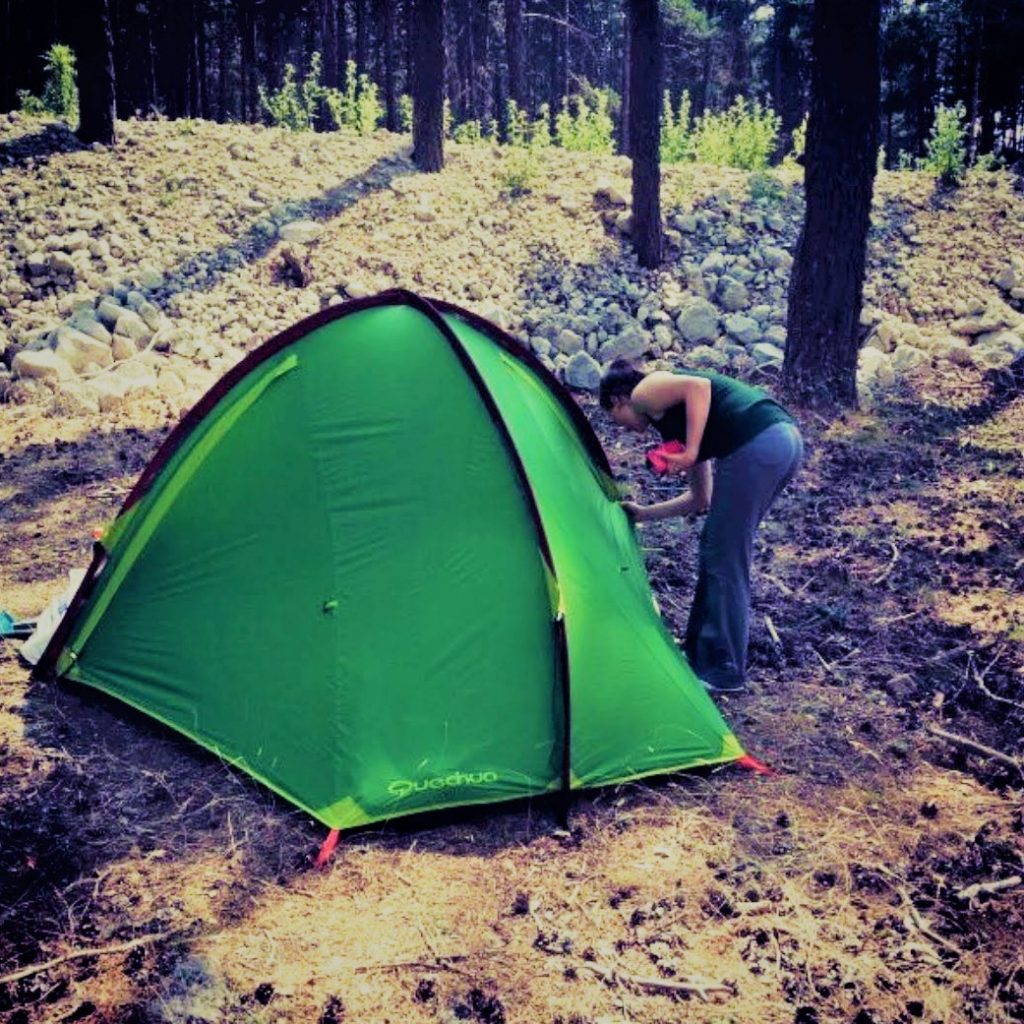 The tent is a two-door and very light tent. Fully double, not too wide. Mosquito nets protect the vents from humidity and airflow. Air circulation prevents moisture formation in the tent. Waterproof is excellent. The little dog Bob, in the article about the camp we made in the Poyrazlar Lake, dug the ground under one of the doors and got under the awning. It was an interesting experience to wake up with the smell of wet dog at night, but we were happy to cause it to be protected from the downpour.
The tent is very simple to set up. You can install it on your own in about 10-15 minutes, even without help. We see people using very different tents of Quechua, but we have not seen this model in anyone, as we will not see it again..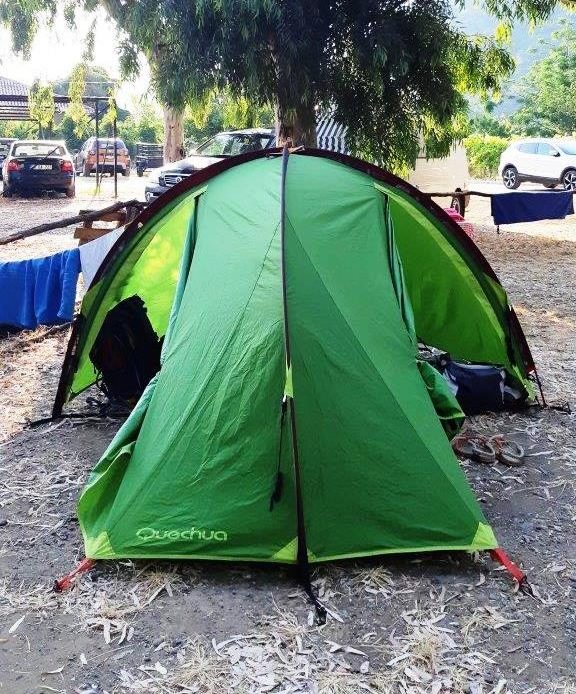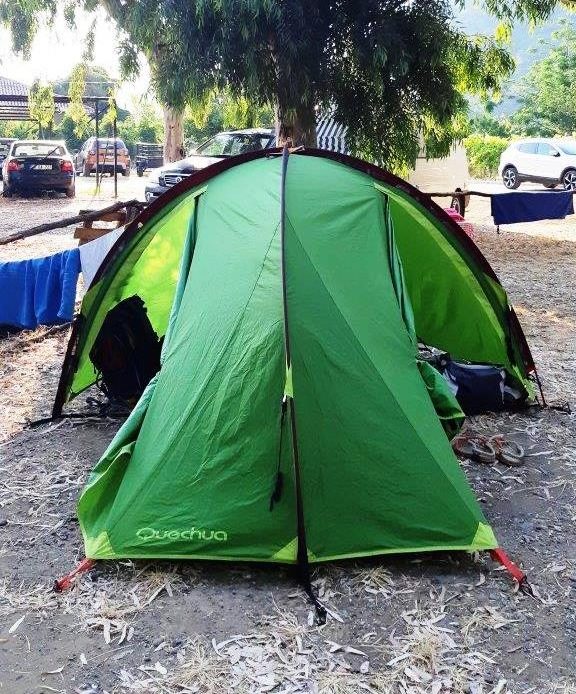 Sleeping bag
I have used Igloo's FRS115 (0/-5) sleeping bag for many years. Unfortunately, this product is not currently for sale. We are both using the Quechua S10 at the moment, but this product is no longer available 🙂 Interesting indeed. You can enjoy this sleeping bag up to a minimum of 9 degrees, but the limit is 5 degrees. Still, under 9 it makes a big difference.
In general, the tent and sleeping bag determine your night sleep quality. Especially when choosing these two equipments, you need to consider exactly what kind of camping habit you have. For example, our duo does not save much between October and April. For this reason, the camping season for us is between October 29 and April 23, and we evaluate different accommodation options instead of camping during the winter months.
Of course, those who want to make a winter camp should prefer 4/5-season tents and sleeping bags in the appropriate range. During my university years, I had the chance to try serious quality winter equipment. However, they cannot provide a very pleasant sleep quality. It may be to your advantage to lower your expectations a little in this regard.
Camping Table – Camping Chairs
We didn't have a camping table until 2 years ago. We were eating on our couches using the plates of our camping dinner set, and in dry weather, we were eating picnic style. Although this prevented us from falling apart, it was challenging. While we were looking for a table, there were a few models that appealed to us at Decathlon. Among them, the Foldable Camping Table seemed to be the best in terms of price-performance. It is an easy to carry but partially heavy table with 4 stools in addition to the table. We sometimes use stools for sitting, sometimes as a coffee table. A balanced and medium quality table set. We loved it, we recommend it. In addition, we seriously thought about the table in the link for a while, I suggest you look at it as an alternative.
We had different preferences as a camping chair. However, we have 2 types of chairs left with us. One is our classic Caddebostan type lightweight chairs, and the other is our TravelChair chairs.
Camping stove
Our camp stove is in the link and we are very pleased, but I think it has stopped selling in Turkey. It doesn't matter the brand, but make sure that the stove you buy is compatible with the camping cartridges on sale here. We take a camping type cooking set with us as kitchen equipment in the camp.
If a fire is to be lit in addition to the materials, we recommend that you use gloves for both safety and comfort while collecting wood. Maybe even small shovels that will facilitate the next level of collecting embers and then extinguishing.
In addition to these main equipment, we have also listed other materials and equipment that vary according to camping habits.
Gears for Tent Camping
Tent: Provided that it is suitable for the season. If it is your first camp, you should definitely try to set it up at home. In addition, it is useful to check for holes or wear. In fact, if you are using it, it may be good to buy useful under-tent covers to extend the life of your tent.
Sleeping bag – Mat: Provided it is suitable for the season. Of course, there is not a seasonal situation in mats, but if it is inflatable, you should not forget the pump.
Folding table and chair
Camp stove, matches, lighter or fire starter stick
Camping cooking, cutlery: I think a pot suitable for boiling water is a must. You can think versatile and use one of the containers you bring for cooking for this purpose. If you have the opportunity for forks and spoons, definitely get a wooden one. They now make the boards of regular size household cutlery for the camps. I say try to find them, both space saving and weight. As a knife, it can be a folding knife similar to a pocketknife, Morakniv is very successful in this sense and is more accessible in financial terms. We also have several pieces of a similar product. If you clean it correctly, you will use it for years. We can add oil, salt and spices, which are indispensable for meals. You can carry a sufficient amount in a plastic bottle or metal container, glass will be unnecessary weight.
Flashlight, headlamp and battery
Ice Box and Thermos: I recommend you to do serious research and buy each material. We still don't have a freezer, because we couldn't find one that fits us. We make do with cooler bags and non-perishable food. Since we do not consume animal products, we do not have any difficulty in food. We do not keep our thermos with us for cold and hot water anyway. Please don't hang around Stanley about the thermos. You can find similar household thermoses at really affordable prices at camping equipment stores. But two thermos as a piece will be very useful for you. I say prefer to use them in the city and give up plastic flasks.
Detergent and sponge: I recommend that you find a cleaner detergent and use it both at home and in the camp. Frosch can help with this for the transition phase.
Multi-purpose cloth: We always take one or two with us for general use, it is a must for us. It saves space by reducing the use of paper towels. It is also necessary to clean our tent or to clean the resin etc. flowing from the tree. If you do not have detailed information about the fabric properties of your tent, it would be better not to use wet wipes on it, but to wipe it slightly damp with this type of cloth.
Toothbrush, toothpaste: You can find a clean, cruelty free and vegan product and use it at home,too. Here are clean ingredient recommendations for personal care products.
Shampoo – soap: You may not need it depending on the duration of the camp. You can find a cleaner product and use it at home, compared to conventional types. Here are clean ingredient recommendations for personal care products.
Toilet paper
Clothing Items
Boots – Slippers
Buff – Hat
Polar – Shirt: Prefer quick-drying materials that are not heavy.
Trousers – Shorts: Preferably UV protected. You can use Columbia's zippered trousers products that can be shorts for years, we are very satisfied with the quality of the fabric.
Swimwear – Towel
Raincoat
Don't make the mistake of putting something else for Pajamas, try to think multipurpose
Other Gear
Camera
Binoculars: We this and also this one. We always carry it with us, not only in camping, but also from daily hiking to African travel. In summary, it is also useful to pay attention to features such as refraction and magnification of sunlight.
Compass: There is always the possibility of trekking to nearby hills or forest.
Handaxe: Can be left at home depending on the offroad level of the camp.
Walking Stick
Gaiters: It is important that it is waterproof material
Windshield for stove
Ducttape-like tapes: Temporary solution for holes, tears, etc., but provides comfort.
Rope
First aid kit: It doesn't need to be elaborate
Powerbank: Maybe even those that charge with solar energy
Fly spray
Sunscreen: I say make it a habit to use it in every camp in summer and winter. Here are the recommendations with clean content for personal care products.
Menstrual cup, pad, tampon
Hot water bag: A must for winter camps, helping to warm up before sleeping.
Do not forget to share with us your indispensable materials that we did not think of.
Lots of fun.